Features of our virtual exhibition platform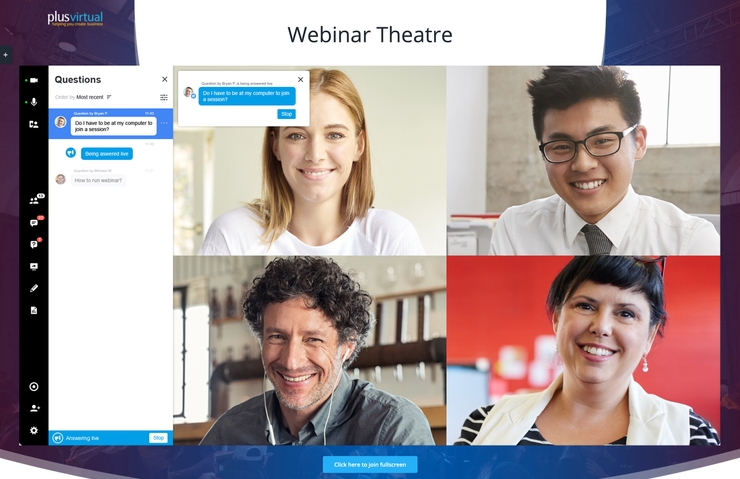 Easy to access fully embedded webinar rooms that are fully responsive and customisable.
Key features
Add different rooms. Create room layouts to suit your event with plenaries to gather your attendees together for various activities, conference rooms to deliver your content via recordings or live events and breakout rooms for smaller groups and tasks.

Browser based webinars. Run a secure HD webinar with just one click. It works on all modern web browsers, on desk top, tablets, phones and even smart TV. The system is also fully responsive. Broadcast at the same time with multiple hosts.

Custom layout. Embed your own branding directly into your webinar platform. Using an easy to navigate template you can add your logos and your colours – make the platform for your own!

Q&A / Chat function / Interactivity. Encourage discussion with participants by adding custom polls, hand raise, Q&A and/or moderated chat functions.

Record and share. A recorded webinar can be easily replayed in full HD, MP4 with a single click and stored in the cloud. Easy to edit, share and download your videos. No time limit on recordings. If your webinar lasts 5 hours, don't worry our recording software will ensure every vital second is recorded.

Broadcast live. Broadcast your event live or simulate live with prerecorded content.

Content library. You can upload files and documents to share with participants during the webinar.

Mobile ready. Speakers and delegates alike may not be at their desks throughout the event… luckily our webinar software is perfectly happy on desktop or mobile devices.

GDPR compliant. The software is compliant with all data storage and EU laws.

Scalable. No restricted admission here – just let us know how many attendees you're expecting.
If you would like a run through of how our platform works, head over to https://www.plus-virtual.com/virtual-events and fill in the contact form, email [email protected] or call 01782 264110 and one of our advisors will be happy to help.