Features of our virtual exhibition platform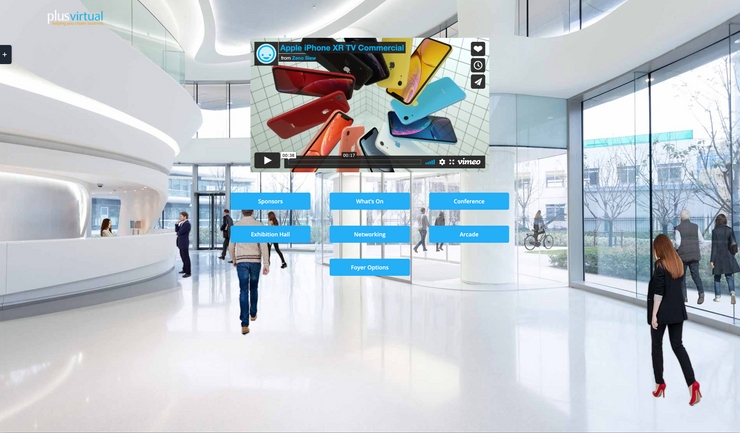 Choose or create an attractive landing page for registered and prospective attendees.
Key features
Standard templates. Our advisers will show you a selection of standard templates – all with realistic 3D renders of foyers and entrance halls.

Fully customisable rendered foyer. Indulge in a personalised a foyer from scratch with decor, branding and furniture all to your own specification.

Fully customisable 'real life' foyer. Our team can visit your premises (fully Covid compliant) to take photographs and video to recreate your own reception area on your site.

Help desk. Inserting chat and/or FAQs functions help your attendees feel guided and supported throughout the event.

Customisable navigation. A choice of shapes are available for navigation buttons all available for use with your company brand colours and fonts.

Welcome videos. In our experience we've found that welcome videos tend to be an important addition – creating a personal interaction from the outset.

Custom reception areas. If you intend to have more than one event running on the platform, individual reception areas help to direct attendees in the right direction.

Key area navigation. Why not add extra navigation buttons to direct visitors to possible areas of interest?
If you would like a run through of how our platform works, head over to https://www.plus-virtual.com/virtual-events and fill in the contact form, email [email protected] or call 01782 264110 and one of our advisors will be happy to help.